THE GRAVE LEAVING FESTIVAL IN DAKLAK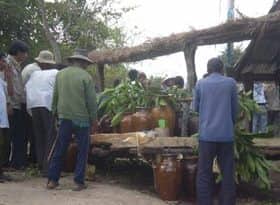 Like other nations of the West Highlands, the Edes and the H'Mong also have a grave leaving festival for the dead person after 1 to 3 years. This festival takes place in January till March each year after completing the harvest time and when the weather is cool, flowers in forests blossom up. People prepare for it very carefully in a month. They go into the forest to choose good wood to make statue on the grave, to make a "Nieu" tree to build the grave. They prepare a lot of food and a lot of entertainment in order to send their relative to the other world.
Time passes by, this festival doesn't keep its traditions for Daklak people but in Gia Lai and Komtum, this festival is one festival which can't be missed in the life of the local people.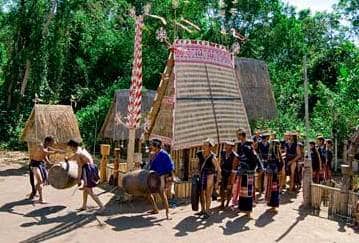 Raglai people have a community life, so in the ritual ceremony to focus full of people in the village to attend together to bid farewell to the deceased and to perform the ceremony in full, solemn. Grafting is usually held after a year or two when a relative dies. According to the conception of the people, if the ceremony does not leave, the relationship between the living and the dead still exist, so it is necessary to leave the ceremony to farewell while expressing affection for the deceased.
"Earlier, the Raglai people have had festivities, but the rituals are the most outstanding," said Mok Quoc Tien, a Raglai folklore researcher. In the life of the Raglai, any survivor, the survivors shall be responsible for the care of the dead, and the dead shall be free to leave the grave. The ceremony was held for the purpose of funeral rites, expressing the feelings of survivors to the deceased. "
Leaving ceremony is important in the spiritual life of the Raglai people. In ceremonial ceremonies, there are many art forms such as architecture, sculpture, painting, music, dance, performance ... with the purpose of sending the dead to the "afterlife". At the same time "completely" relieves all constraints of the living to the dead. With these outstanding values, in 2012, the Ministry of Culture, Sports and Tourism decided to put the Raglai Ritual Ceremony in Khanh Son District, Khanh Hoa Province on the National List of Intangible Cultural Heritage, of social and religious customs.