PONGOUR WATERFALL - DALAT
Pongour waterfall is the most famous and beautiful waterfall of the South West Highlands. Therefore, if you come to Da Lat you dont forget to go to the Pongour waterfall.
Location
★ Pongour waterfall in Duc Trong district, 20km far from district and 50km far from the center of Da Lat city. On Highway 20 Dalat - Sai Gon, go to Trung village (on the Chai mountain) turn right to go a long way to 8 km of a road you will arrive the Pongour waterfall that locals call Bay Waterfall or Thien Thai waterfall. The name Pongour has two theories as follows: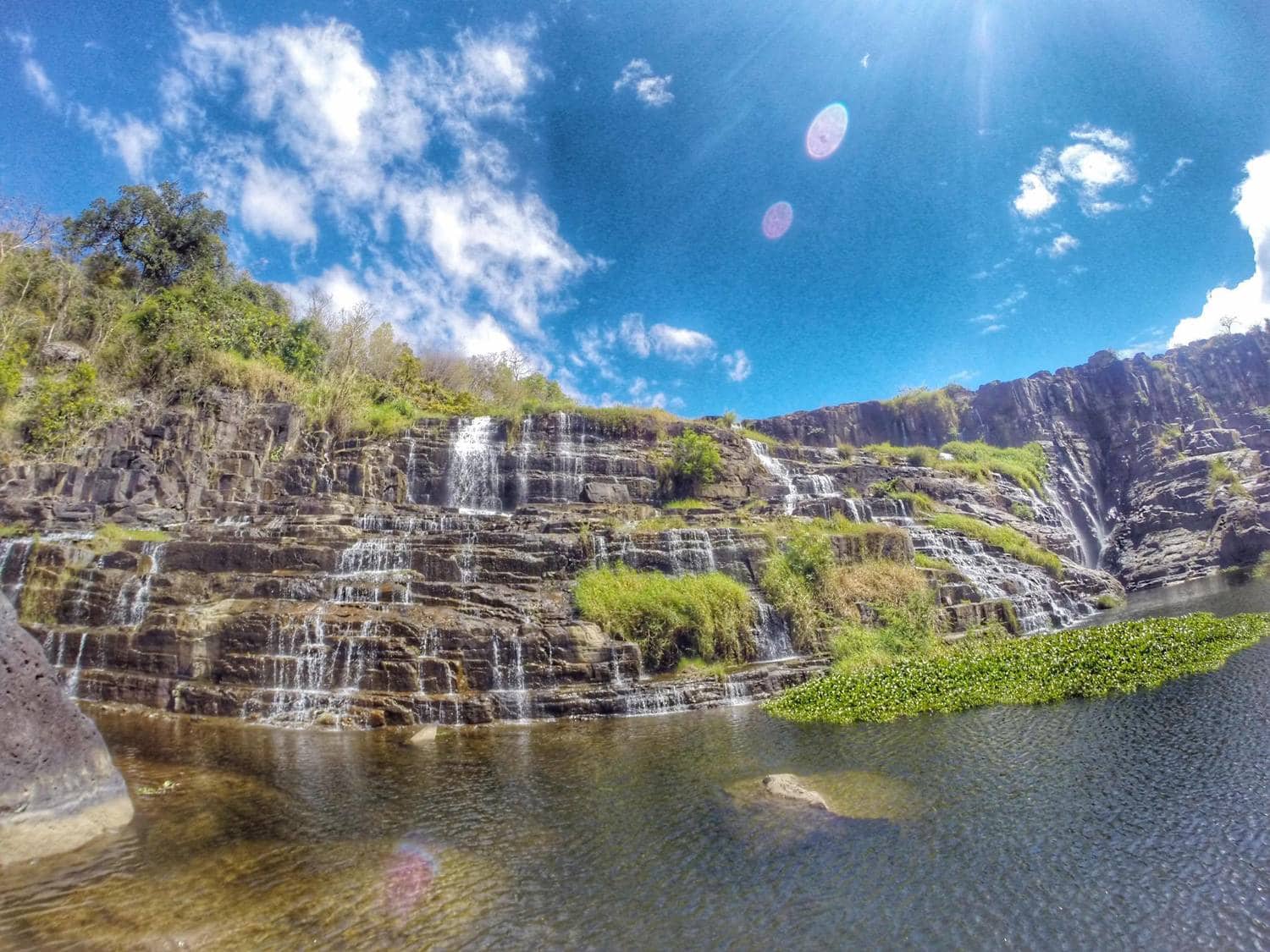 Name and history

★ ★ First of all, Pongour is due to the French pronunciation of the indigenous peoples (K'ho: Pon - gou (meaning boss of white clay). This area has much kaolin (white clay), so Pongour means the owner or king of Kaolin.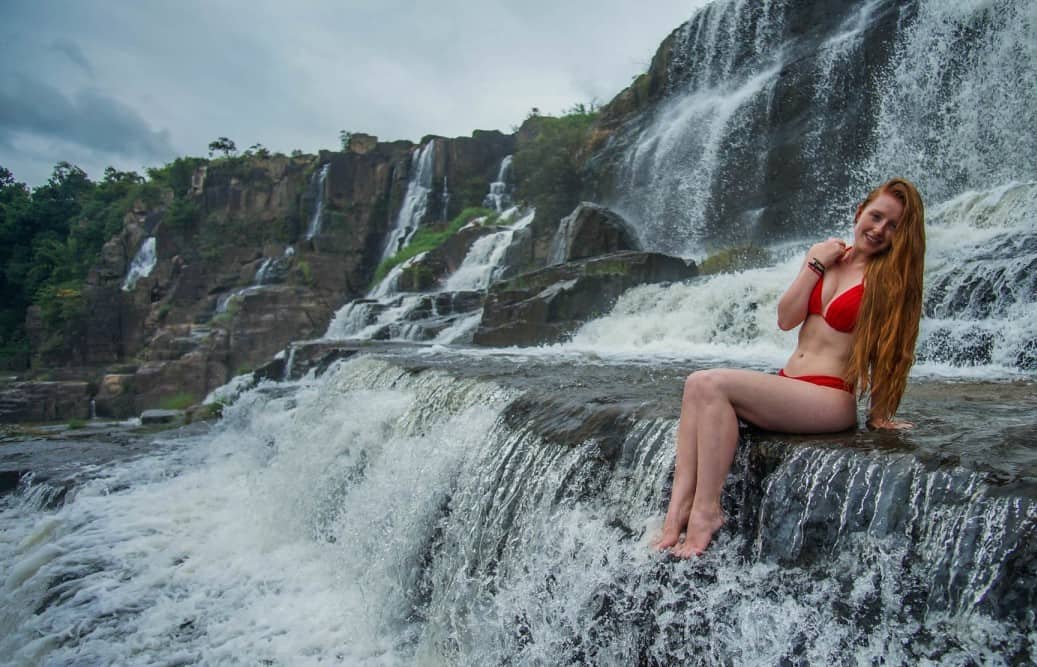 ★ ★ The second hypothesis is quite popular nowadays. Pongour comes from K'ho meaning four rhinoceros horn (Pon: four, gou: horn). This theory is taken from an ancient story in the K'ho-Cham ancient treasure, Churu. The content of the story is as follows:
* In the past Phu Hoi - Tan Hoi - Tan Ha land today owned by her Ka Nai. Ka Nai is a young, beautiful young woman, more powerful than K'ho - Churu. She has the ability to conquer the wild animals, especially Rhinoceros). Thus, in her tribe, there are four unusual rhinoceros. Ka Nai used these four rhinoceros to explore the hillsides and fight against enemies to protect the village. At that time, the Prennese invaders in Panduranga (Ninh Thuan today) often harassed, arrested local people for the Cham kingdom, made "Xâu" (a form of slavery), or soldiers to fight against The Yuan (Kinh).
* Once, the Ka Nong ethnic group was captured by Prenn soldiers. Angry at that scene, Ka Nai assembleds the Central Highland tribes such as Sré, Mạ, Nop ... to revolt against the Prenn. She herself rode rhinoceros with her people going down the Panduranga kingdom for revenge. Ka Nai has captured four Prenn towns, saving hundreds of K'ho who have been enslaved by Prenn. through this victory but some K'ho Ma was still decided to follow Prenn enemy, strangled although many K'ho Ma had married in his hometown.
* Sad and angry in the face of adversity, Ka Nai to punish those who have forgotten bereaved love. And, then she rebuilt her village. Ka Nai and four rhinoceros day and night digging hill to create a " loyal kingdom" for her K'ho. Pongour is a mark of four rhinoceroses plunging down the Highland forest to open a cultural era for the peoples here.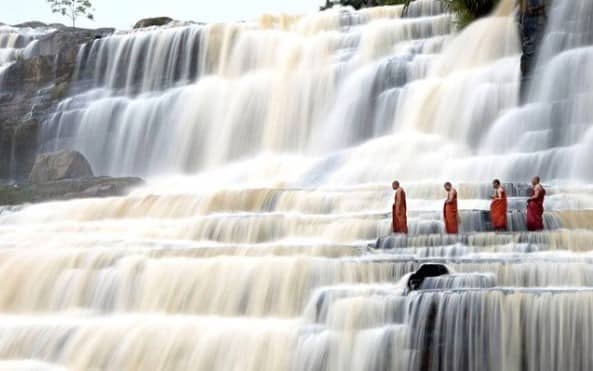 ★ Pongour waterfall has a history from many people, many stages and today there is an anniversary. It was the first full moon of the warm season, the jungle began to make a "memorial" day for her tribe. In the 60's of this century, many Chinese people in Tung Nghia (Duc Trong) on the Lunar New Year (January full moon) often visit the temples, mausoleums, landscapes, historical relics. In accordance with the custom of the indigenous people (K'ho, Churu) and people of ethnic minorities in 1954 (Thai, Tho, Tay, Nung ...) together set up the Pongour (often called Thien Thai). On the 15th lunar month of the lunar calendar year, each group of people from the Lien Nghia, Cao Bac Lang, Luc Nam ... towns of Duc Trong and the regions such as Phu My, Lac Son, Ngoc Son, Dinh Van. .. of Lam Ha go to the Pongour Falls for the festival.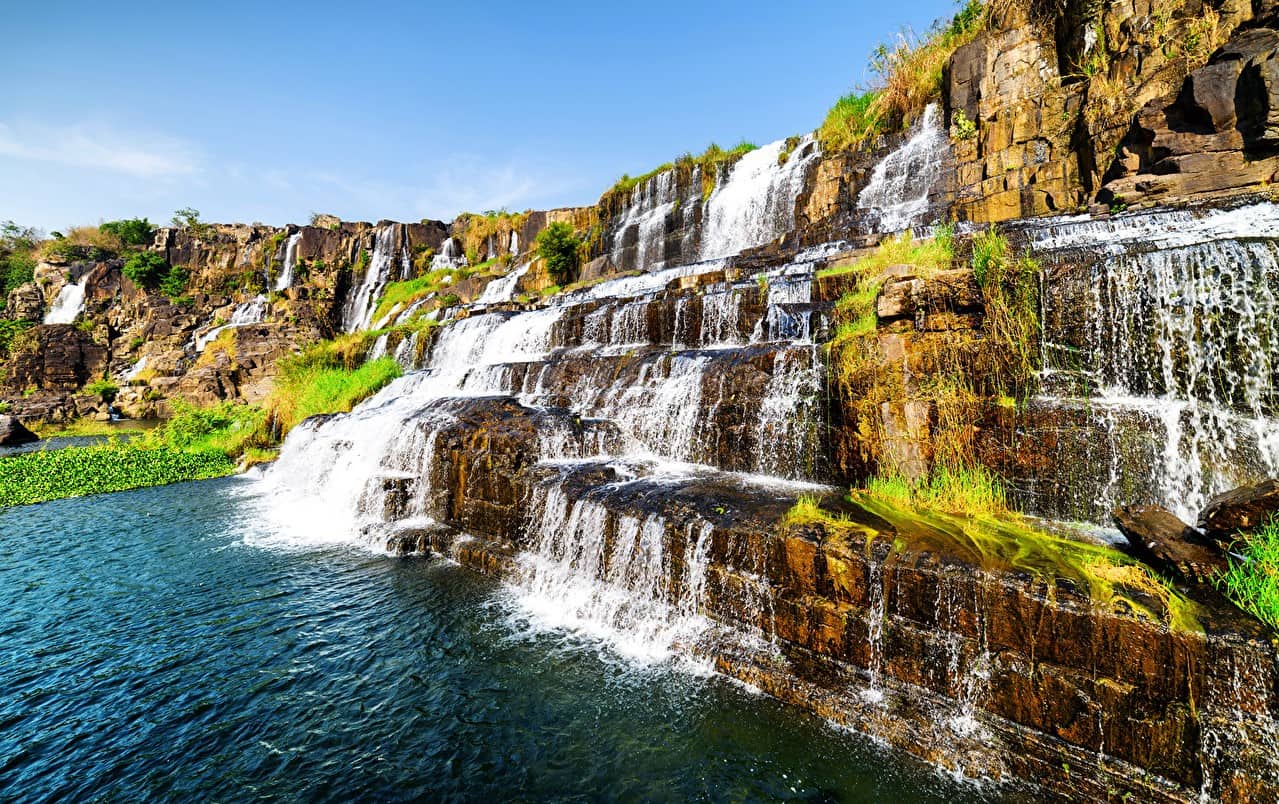 ★ On this occasion, men and women of North-South, Kinh-Thuong, Hoa-Viet, Thai-Tay ... are busy enjoying spring, exhilarating the seven floors of Pongour waterfall. This is the occasion that people no longer distinguish Kinh-Thuong. They exchange feelings, learn and love each other. It is said that: those who are not honest, unfaithful, unbelievers, sworn to the Pongour waterfall, rarely come back; Ka Nai angry, so she keep those who belonged to the above mentioned at Pongour waterfall to teach them human lessons ... Someone does not dare to come to Pongour. But going to Da Lat without visiting Pongour as well as haven't been to Dalat, not see the wild dream of the South Highlands. In recent years visitors come to Pongour Festival more and more and happy when they come back.